We will guide or go with you to our Favorite Places to Eat. Show you Things To Do and Make Reservations For You if needed. Usually there is Country or Bluegrass music being played somewhere close most every weekend. If you just like a peaceful evening at home away from home then you are at the right place. Click On the Pictures. Many of the area attractions have web sites that inform you of their operating hours and dates of upcoming events.

Historic Thomas Drugs and Old Soda Fountain
Historic Drugs store with old fashion soda fountain is a step back in time. The malts and shakes are the best anywhere and the salty lemonade is to be tried. Thomas Drugs of Cross Plains, Tennessee has served the town and he surrounding communities of Robertson and Sumner County as a full service drugstore and soda fountain. Located in a 1915 building on Main Street (Highway 25E), and listed on the National Register of Historic Places.
7802 Hwy 25E Cross Plains, TN 37049
615) 654-3877 - (615) 654-9179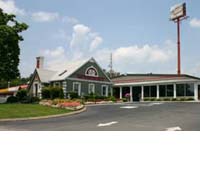 Sumner Crest Winery Portland Tennessee
Approximately 5 miles from Stay Down On The Farm. Award winning wines, gift shop and some of the most unique antiques you will find in this area. Sumner Crest Winery of Portland Tennessee is continually planning and holding some very entertaining events. Take I-65 to exit 117 (Hwy 52). East toward Portland. Just past the Shell.
5306 Old Highway 52,
Portland, TN 37148
615-325-4086